Apache Marmotta provides an open "Linked Data Platform" that enables companies to profitably connect their data according to the conventions of the World Wide Web Consortium with the data on the Web. Applications of this open source technology include the integration of corporate data, semantic search, annotation and recommendation systems . In the meantime, developers from around the world joined the development team. Now Marmotta graduated from Incubator to top-level project of the renowned Apache Software Foundation.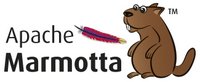 In recent years Salzburg NewMediaLab, under the co-ordination of Salzburg Research, investigated research-related issues in the area of the "Linked Media Principles", and developed an open reference implementation, the "Linked Media Framework". At the same time a working group of the W3C prepared specification for a linked data platform, whose properties have not only been covered by the Linked Media Framework, but exceeded the specification. Therefore, the core of the Linked Media Framework was extracted and started as incubator project "Marmotta" at the Apache Foundation. This procedure guarantees legal certainty and support for the development and maintenance of the developer community and promotes sustainable development and evolution of open source software.
Apache Marmotta was launched in December 2012 as an incubating project and became a top level Apache project in November 2013. This is a recognition of years of intensive work in various research projects, which was pronounced by one of the largest and most important open source communities worldwide. In the so-called "incubation period" , the project must prove to meet the strict quality guidelines of the Foundation. This concerns both the copyright and license provisions of source code and libraries used, as well as dealing with the community and new developers. By enlarging and diversifying the developer team the software is provided on a stable, self – supporting basis.
The open software is already in use: The Red Bull Media House uses the principles for search and navigation in the central content pool. The Department of Documentation and Archives of the Austrian Broadcasting Company (ORF) is supported in the annotation of documentary contributions. The newspaper "Salzburger Nachrichten" use Marmotta for search and recommendations on salzburg.com involving a company's internal knowledge base.
Further information: http://marmotta.apache.org